December 2017
Remembering Pat Brownlow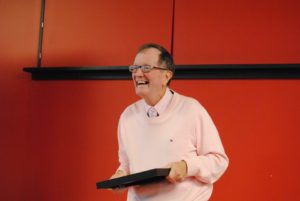 On November 20, 2017, the public relations community lost a passionate mentor and leader. Pat was one of our longest-standing CPRS board members and held numerous roles on both the local and national boards of directors.
Pat always went above and beyond throughout his career; in his roles in the Federal Government and in his consulting business. In addition to his work, for over 20 years, Pat hired public relations students from both Mount Saint Vincent University (MSVU) and the Nova Scotia Community College (NSCC) programs for work terms and continued to mentor many of them as they launched their careers.
Tracey Taweel, Associate Deputy Minister of Communications Nova Scotia, was one of those students who learned from him. She shared how she met Pat when she was at MSVU:
"Pat and I first met at a wine and cheese organized by the PR faculty at the Mount to match students with mentors and practitioners in the field. It is a  funny story actually. Coming to the event, students and mentors did not know who we had been matched with.  When the matches were announced, Pat and I discovered we had been put together. Here's the funny part: we  were dressed virtually identically in red blazers, black turtlenecks. We looked  like a matched set!  As we chatted, we discovered many more things we had in common including a shared birthday. Pat supported my career and personal and professional growth from the first "red blazer" moment. He provided me with opportunities to try my skills out in a volunteer capacity; he helped me find my writing style —which has stuck with me to this day.  And, he taught me, most importantly, that to be a strong communicator, we must first be good listeners.  I hold those lessons to this day." 
Mary Mitchell, now Junior Communications Officer at Fisheries and Oceans Canada met Pat while taking her advanced diploma in public relations at NSCC:
"Pat was assigned to be my mentor as part of the program. We often met for coffee, talked about  projects at school and Pat shared some of his many public relations experiences that he had over the years. As a new PR professional these times were very useful to help me learn more about the field; and I will always remember Pat's smile and passion for the profession. I will miss you Pat, may your inspiration and passion be lived through the many lives that you have touched through your mentorship and guidance over the years."
Finally, Leanne Tremblay, President of CPRS- NS chapter shared her reaction to Pat's passing:
"Nothing I can say would fully explain the magnitude of Pat's impact on students/young professionals in Halifax and thus the entire communications community. Pat helped me launch my career, supported my leadership on the CPRS-NS board and championed me taking on the role of President. The news of his passing was hard to take and its impact will be felt by many,  especially the countless individuals he mentored."
To read Pat's full obituary, please visit the Dartmouth Funeral Home website. His Mass of Christian Burial will take place at St. Thomas Aquinas Church, 10:00 a.m. on Saturday, December 9th, 2017. Following the service, there will be a reception where those who knew Pat are invited to share their stories and memories.
Our thoughts are with his family and those who were closest to him. He will be greatly missed by our board, our members and the communications community as a whole.
The CPRS-NS Board of Directors
__________________________________________________________
November 2017
Student Event: Demystifying Networking
Student members of the Canadian Public Relations Society Nova Scotia chapter gathered at The Nook on Gottingen this month to participate in an interactive networking workshop with the Halifax Partnership Connector Team.
Throughout the evening, students from both the Nova Scotia Community College and Mount Saint Vincent University public relations programs gained insights on how to prepare for networking events, practice active listening, and how to approach following-up once a new connection has been established. These new skills were then put to the test as workshop participants practiced networking with their peers.
Thank you to the Halifax Partnership and The Nook on Gottingen for sharing their energy and sharing our excitement of building the communications community for the future!
Stay tuned for other upcoming events on our website and through following our social media accounts.
__________________________________________________________
October 2017
Professional Development: Effective Communication with the Media
The Canadian Public Relations Society Nova Scotia (CPRS-NS) chapter kicked off the first professional development session of the 2017-2018 year last month with Peter Spurway, the CPRS-NS 2017 Communicator of the Year Award recipient.
Peter Spurway is well known in the communications community and is the Vice President, Corporate Communications and Airport Experience at Halifax Stanfield International Airport Authority. He oversees corporate reputation management for the Airport Authority – the company that operates, maintains and develops Halifax Stanfield International Airport.
Before beginning his corporate communications career, he spent 12 years in the media in various capacities. Using what he's learned over many years, Peter recently wrote a book titled, "Practical, Powerful and Effective Guide to Media Relations."
Revealing the details of his book, Peter led a breakfast session to share his media relations experiences and stories. Over 50 students and professionals filled the room at the Art Gallery of Nova Scotia, creating an open space for discussion and questions following the presentation.
Thank you Peter and thank you to all those who attended our first professional development session of the year! If you have any feedback on this session or ideas for future sessions, please contact us.
For the latest on upcoming events, follow us on social media and visit our events page.